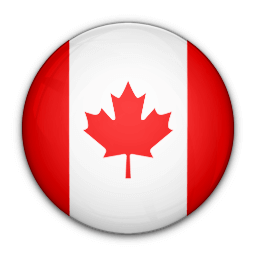 Le VPN is a safe and affordable way to browse the web anonymously and visit sites restricted by location. At Le VPN, our Canadian VPN service starts at just $4.95 USD a month. In addition to our private in-country connection, you'll also have the option of using any of our 700+ servers or IPs in the United States, UK, Brazil and beyond.
With identify theft, online security and privacy being prevalent topics today, it's no surprise that VPNs are becoming an increasingly common way to surf the Internet. For a small monthly fee, a Canadian IP address gives you peace of mind and the freedom to visit all the sites you want to visit.
WHY USE A CANADIAN VPN SERVER?
Clients use our Canada VPN servers for a number of reasons. Security and confidentiality are both important priorities — and with industry-leading encryption protocols, our customers can rest assured that they are protected at all times. Many also use a VPN to get around geographic restrictions on media and other content. With multiple VPN servers in Canada, and a range of international options, our service is key to unlocking the full power of a truly global Internet.
Read on for more information about the specific benefits of using a Canadian VPN server, both inside the country and outside of it.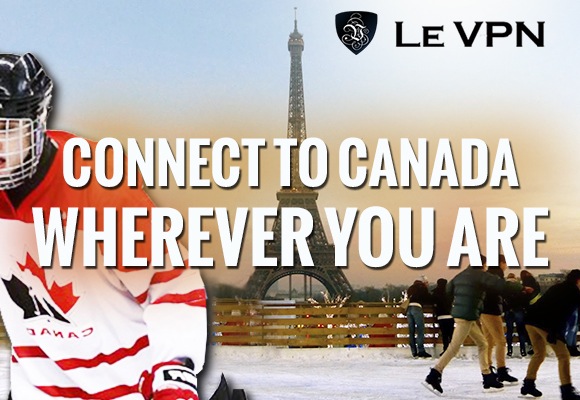 WATCH AMERICAN TV IN CANADA — AND VICE VERSA
Anyone who has ever tried to check out the latest viral video or TV show from south of the border knows all too well how frustrating this message can be.
Le VPN gives you the freedom to connect to any of our 700+ servers and IPs in 120+ countries, allowing you to watch content hosted in the U.S., UK and beyond. With Le VPN, it's easy, safe and completely private.
If you've ever been traveling outside the country and tried to stream the latest hockey game or visit a Canada-only website, you know that geographic restrictions can work both ways. Le VPN's Canadian VPN service lets you access a Canadian IP from outside the country, so there's no reason to miss any updates from home. Watch all your favorite CBC and CTV shows, as well as French language programming that's hard to find outside of Canada. Whether you're traveling for a week or living abroad long-term, Le VPN lets you stay informed and connected, no matter where you are.
THE SECURE WAY TO TRAVEL WITHIN CANADA
A VPN is good for more than just watching the American TV and movies. One of the key benefits of using a Canadian VPN service is the additional security it offers when browsing over an unsecured network. Use Le VPN in airports, hotels, coffee shops and other locations where additional peace of mind is required. An encrypted VPN protects data as it travels from your computer or mobile device to its destination. Anyone monitoring your connection won't be able to access your private information or even tell whether you're browsing the Internet, streaming video, downloading files or more.
Le VPN offer three security protocols for Canadian users:
With our software, you can easily customize the level of privacy you want. Browse our website or contact a team member today to learn more about your options for staying safe while browsing over a VPN.
PLAY POKER ONLINE WITH LE VPN
Online gamers worldwide will appreciate the benefits of using a VPN to access Canadian poker sites. While normally you would be restricted from gaming online when out of the country, Le VPN lets you circumvent this rule by using a Canadian IP address. You can also play from locations in Canada that are blocked by a firewall or have other restrictions.
One additional benefit of using a VPN to play poker online is that the added security makes it easier to buy in and cash out without exposing your banking information. Visit our page on online poker for more information.
GET STARTED WITH LE VPN TODAY
All Le VPN customers receive unlimited speed and data transfer, high speed SmartDNS for watching TV online and many other exclusive features. Sign up for Le VPN today, and enjoy a secure and private Internet connection through any of our 400+ international servers.
Le VPN in other countries:
North American VPN service

Unblock Canadian TV & Network

Privacy & censorship bypass

Safe Poker & Online Gaming (Canada only)

Safe P2P & File-sharing (with Canada servers only)

Latin American VPN service

Unblock Latin American TV & Network

Privacy & censorship bypass

Unblock European TV & Network

Unblock French TV & Network: unblock TF1, M6, W9 and more

Unblock British TV & Network: unblock BBC iPlayer and more

Unblock German TV and the rest of European TV & network

Privacy & censorship bypass

Safe Poker & Online Gaming (except in France, Russia and the UK)

Safe P2P & File-sharing (with the Czech Republic, Luxembourg and Netherlands servers only)

VPN IN BOSNIA AND HERZEGOVINA

VPN in Africa and in the Middle East

VPN for Australia, New Zealand and Oceania

Unblock Australian TV & Network

Unblock New Zealand TV & Network

Privacy & censorship bypass

VPN IN THE FRENCH POLYNESIA