Le VPN app offers full security, anonymous browsing, unrestricted web navigation and virtual geolocation in 114 countries with just a single tap!
What is VPN on iPhone / iPad used for?
Secure the Internet connection of your iOS devices: install Le VPN app on iPhone, iPad or iPod Touch and tap "Connect" to encrypt your connection.
Change your IP address to 114 countries, unblock restricted websites, bypass Internet censorship and content filters with our iOS VPN apps. 
Access online media reserved for other countries and stream foreign TV and live events with our iPad VPN / iPhone VPN app.

Keep your identity and location private, and browse anonymously from your iOS devices with Le VPN app for iPad / iPhone.
What is VPN on iPhone / iPad and how it works?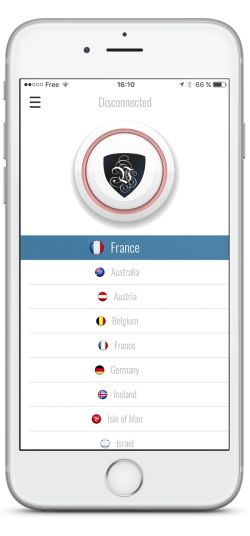 What is a VPN? VPN stands for virtual private network, a technology that encrypts your Internet connection on your mobiles, tablets, computers, laptops and other VPN-enabled devices by encrypting your internet connection with a military strong algorithm and re-routing your traffic through our VPN servers. While there may be other VPNs for iPhone and VPNs for iPad, we recommend you to try our latest Le VPN iOS app which was custom-developed by our team based on our clients' feedback and most popular needs. Try Le VPN iOS app with a 7-day FREE trial!
Once you connect through Le VPN for iPhone or iPad, all the Internet traffic of your iOS device goes through an encrypted VPN tunnel and your real IP changes to the IP address of one of our VPN servers in 114 countries.
Using Le VPN app (iPhone / iPad / iPod Touch) allows you to change and hide the IP address of your iOS device, bypass proxy, defeat geographic restrictions, enhance your online privacy, and surf the Internet anonymously.
How to use VPN on iPhone / iPad? How to set up VPN on iPhone / iPad?
Want to know how to use VPN on iPhone or iPad? With Le VPN app for iOS it is very simple!
Download Le VPN app from the App store, pick your plan and create an account (or login into your account if you have an active Le VPN subscription). A 7-day FREE trial is also available for all new users.
Pick any country from the list and tap on the red button to connect, or connect automatically to the country already pre-selected for you.
Le VPN button will turn green when it is connected and you can tap it again to disconnect.

No other configurations are necessary. Le VPN app works seamlessly in the background and you shall see a "VPN" sign next to your WiFi/Data sign in the top bar of your iOS device each time when the VPN connection is activated. Le VPN app for iOS automatically uses IKEv2 protocol, but you can also setup OpenVPN and L2TP/IPSec connections if required.
How You'll Benefit by Having the Le VPN app for iPhone / iPad?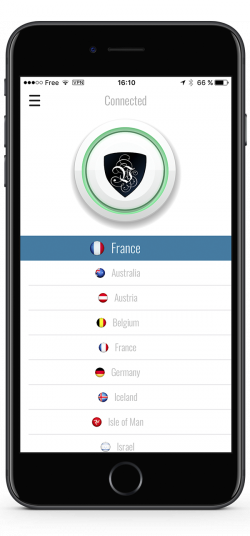 • Easy one-tap connection through an intuitive Le VPN app available in 5 languages: English, French, Spanish, Italian and Russian.

• Access to VPN servers and change of your virtual location to the most high-demand countries: Australia, Austria, Belgium, France, Germany, Iceland, Isle of Man, Israel, Italy, Japan, Netherlands, Poland, Romania, Russia, Singapore, Spain, Sweden, Switzerland, United Kingdom and multiple locations in the US.
• Multi-Protocol support: IKEv2, OpenVPN and L2TP over IPSec.
• Simultaneous use on two devices: you can be using Le VPN app on iPhone and connecting with Le VPN on iPad or on your computer, laptop or router at the same time.
• High-speed VPN connection & unlimited bandwidth.
• Fast and responsive Support Team, assisting you on all your iOS VPN questions and concerns.
• Compatible with iOS devices: iPhone VPN, iPad VPN, iPod VPN (through Le VPN iOS app).
• Le VPN use on all other devices, including HybridVPN & SmartDNS use, under one all-inclusive Le VPN plan from $4.95/month.
Why choose Le VPN for iPhone / iPad security?

• Trustworthy VPN provider, protecting thousands of clients in Europe, U.S. and all over the world since 2010.
• Guaranteed confidentiality: No traffic logs are kept.
• Extensive and growing network of VPN servers, currently with IPs in 114 countries.
• Top-secret level encryption, which guarantees the maximum security of your Internet connection.
How to get VPN on iPad / iPhone? Simply Select Your Plan!
High Speed VPN+SmartDNS available
VPN servers in 114 countries
2 Simultaneous Connections
7-Day Money Back Guarantee
Free iOS app for iPhone & iPad
OpenVPN, L2TP, PPTP & HybridVPN available
Compatible with Mac, Windows, Linux,
iPhones, iPads and Android devices
$495
/mo

Save 50%
High Speed VPN+SmartDNS available
VPN servers in 114 countries
2 Simultaneous Connections
7-Day Money Back Guarantee
Free iOS app for iPhone & iPad
OpenVPN, L2TP, PPTP & HybridVPN available
Compatible with Mac, Windows, Linux,
iPhones, iPads and Android devices
High Speed VPN+SmartDNS available
VPN servers in 114 countries
2 Simultaneous Connections
7-Day Money Back Guarantee
Free iOS app for iPhone & iPad
OpenVPN, L2TP, PPTP & HybridVPN available
Compatible with Mac, Windows, Linux,
iPhones, iPads and Android devices
Payment methods available:
What Our Clients Are Saying About Le VPN Service?
I'm a scientist and I travel a lot, mostly in Europe and Asia. I need access to the content, which is often and unexpectedly limited in some countries. Over the past three years Le VPN is only option to continue normal work wherever I am. Thank you guys.

—Sergey V., Scientific Director at Braincraft LLC, Russia

Using Le VPN enables me to unblock and enjoy web content from websites of countries I once lived in, wether it is to watch American series or a French documentary for instance. Besides it speeds my internet connection and protects my identity, I couldn't ask for more.

—Morgane V., Accor Group, French expat in Indonesia

I have used Le VPN for over a year to watch my favourite American TV shows in Argentina. It is very easy to use, safe and reliable. Totally recommended!!

—Jorge Rafael C., Violinist at Teatro Colon, Argentina

Been using for 2 days for Spotify and videos online, Liking it ... no, LOVING IT! Awesome speed, 15 second server connection and so easy to use!!!!

—Ameer A., Currys / PC World, Pakistan

As I live abroad, I rely on Le VPN to access my favourite UK TV show, as well as for a secure internet connection. A fantastic service, both reliable and good value.

—Lauren F., insurance industry, UK expat in Argentina

I'm very often traveling for my work between countries and continents, working from coworking spaces. VPN reliable and efficient technology is letting me to keep use of all resources and networks I m used to in spite any local limitations.

—Elena P., Fashion & Design, Russian expat in the US

Every evening Orange France limits the connection to YouTube! Thank you Le VPN for helping to avoid this limitation!

—Francois L., France

Watching the replays of my favorite show on ABC thanks to Le VPN and simply loving it! Don't need to wait until my show comes to France, Le VPN unblocks it all! Thank you!

—Julie P., Sciences Po, France
FAQs for Choosing the Best VPN App for iPhone / iPad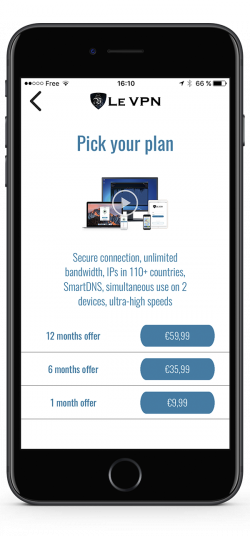 Le VPN app for iPad, iPhone and iPod Touch has various uses. Are you an advanced technology user and looking for the best VPN app for your iOS device? We've compiled a list of the most Frequently Asked Questions that may help you in your decision to try Le VPN service:
Do I need a VPN for my iPhone? What is VPN app iPhone used for?
How to setup VPN on iPhone? How to use VPN app iPhone?

Our iOS VPN app sets it all up automatically for you once you download Le VPN app from the AppStore and login. For alternative VPN intallation on iPhone please consult our knowledgebase with L2TP installation on iPhone instructions.

How to setup VPN on iPad or on iPod Touch?

Setting up Le VPN on iPad or iPod Touch is super easy and fast with Le VPN iOS app. For alternative manual installation, please follow our L2TP installation instructions.

Which are the best VPN apps and how Le VPN app compares to others? What is the best VPN for iPhone?

The big advantage of Le VPN app for iPhone and iPad is how easy it is to use across all iOS devices. It takes less than 10 seconds for the initial registration and setup, and then you can connect in one single tap once you need a VPN protection on your iOS devices. There are many other free VPN apps out there and to understand why best VPN apps cannot be free, please read our article on Why not to trust free VPN services and apps.

Who is the best iPad VPN provider? And which are the best VPNs for iPad?

When developing our iOS app we've tried to integrate feedback and comments from our active clients to create the best iPad and iPhone app suitable to the most common needs of VPN users like you. Read our clients reviews and see if Le VPN is the best VPN provider, or try our Le VPN app for iPad with a 7-day free trial to decide for yourself.

Which VPN application provides iPhone OpenVPN and iPhone L2TP protocol connections?

Le VPN application for iOS works automatically under the IKEv2 security protocol, but you can also manually install the iPhone OpenVPN and iPone L2TP protocol connections by following instructions in our Knowledgebase.

Which iOS VPN app provides the best iOS VPN support?

Le VPN support team assists clients 24/7 in various European languages and try its utmost to provide the best iOS VPN support to all our clients, including free VPN trial accounts. Have a question? Contact Le VPN support team.

What is VPN on my phone?

VPNs on iPhones are a pre-setup feature but only IT experts can create their own VPN client and manually setup a VPN on their phone without passing through a VPN service provider. Best VPN providers like Le VPN offer an easy to install and easy to use apps that do all the work of configuring a VPN on your phone and give you access to their encrypted secure VPN connection and a vast network of VPN server to change your IP address.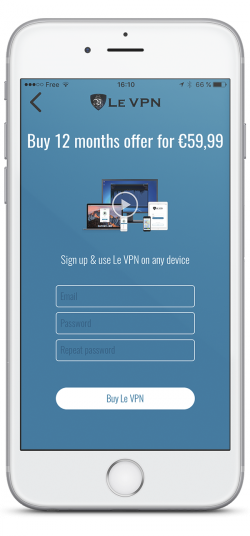 Le VPN iOS app answers all of your questions at once, and solves most of your mobile security concerns. A mobile VPN app like iOS VPN app by Le VPN is by far the best way to protect your mobile device and to make sure that your mobile Internet traffic stays protected no matter where you are. It helps you to quickly connect to the best VPN server for your needs and easily setup VPN on iPhone or another iOS device in less than a minute.
Le VPN iOS app download is free and it is now available in the App Store. But in order to enjoy all the advantages of Le VPN iOS app and its iPad or iPhone VPN connection, you need to first activate your account with Le VPN and purchase one of Le VPN subscription plans. Le VPN subscription is valid for both your mobile devices and your computers / laptops / routers, with a limit of two simultaneous connections at a time.
Download Le VPN iOS app from your Le VPN Client Area or from the App Store now, and enjoy the best VPN service on two devices!