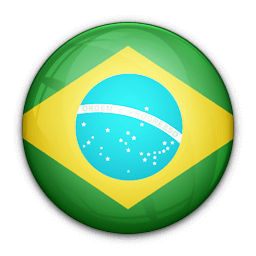 In Brazil and all around the world, Internet users are using virtual private networks (VPNs) to access blocked sites and surf the web privately. Le VPN is a global VPN provider with servers in Brazil, Chile, Portugal and 47 other locations worldwide. For a small monthly fee, you can use any of these IP addresses to connect to the websites you want to see, allowing you to watch your favorite programming when traveling abroad or visiting social networking platforms hidden behind a firewall.
SUBMIT SENSITIVE INFORMATION PRIVATELY
With identity theft on the rise, taking steps to protect your private data is an essential precaution when using the Internet. Whether you're browsing in a cafe, at a hotel or over any private network, Le VPN gives you peace of mind knowing your Internet connection is secure. Our Brazilian VPN server is fast and fully protected by your choice of three major security protocols: OpenVPN, PP2P and L2TP. Using our custom software, you can easily configure the level of protection you want.
Over a VPN, encrypted data is also impossible to detect. It isn't possible to tell what type of Internet activity is taking place, whether you're browsing the web, sending an email or streaming video. If you're concerned about privacy, connecting over a Brazilian VPN is one of the best things you can do to remain anonymous and protect yourself online.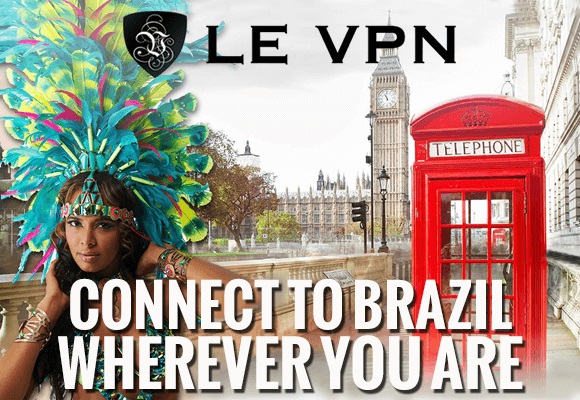 ACCESS INTERNATIONAL CONTENT WITH LE VPN
Our Brazilian VPN server is the fastest and most reliable VPN for users in the country. However, as a Le VPN subscriber, you also have the option of accessing any of our 700+ servers worldwide. One persistent challenge of a world traveler is the unavailability of certain sites while abroad.
If you're an expat living in Brazil or visiting for an extended period of time, using an international VPN in Brazil means you can keep up with news and entertainment from home, watch American or UK Netflix, and access sites restricted by location. There's no better way to stay connected with the world than with Le VPN!
VIEW BRAZILIAN SHOWS ANYWHERE IN THE WORLD
A Brazilian VPN is also useful for anyone outside the country who wishes to bypass international viewing restrictions on media from home. Brazilians living abroad know how limited Portuguese language news, entertainment and sports can be. With our service, you can stay-up-to-date with your favorite programming on Rede Globo, SBT and Rede Record, and, of course, watch the latest Confederação Brasileira de Futebol games — even those that aren't broadcast internationally.
This also makes our Brazilian VPN a great service for anyone planning a trip to the country and wishing to brush up on their language skills and cultural fluency. Some travelers even go so far as to set up a "virtual residence."
THE BEST VPN FOR BRAZIL AND BRAZILIANS ABROAD
Regardless of why you need to access a Brazilian VPN, Le VPN offers the best combination of value and performance for your money. Plans start at just $4.95 USD/month for a year-long commitment, and include unlimited speed and data transfer, full access to 400+ servers and IPs in 120+ countries, and up to two simultaneous connections. There's no paperwork required and your account can be activated instantly. Try it today and see why more people throughout the world trust our VPN services for privacy, protection and peace of mind.
Le VPN in other countries:
North American VPN service

Unblock Canadian TV & Network

Privacy & censorship bypass

Safe Poker & Online Gaming (Canada only)

Safe P2P & File-sharing (with Canada servers only)

Latin American VPN service

Unblock Latin American TV & Network

Privacy & censorship bypass

Unblock European TV & Network

Unblock French TV & Network: unblock TF1, M6, W9 and more

Unblock British TV & Network: unblock BBC iPlayer and more

Unblock German TV and the rest of European TV & network

Privacy & censorship bypass

Safe Poker & Online Gaming (except in France, Russia and the UK)

Safe P2P & File-sharing (with the Czech Republic, Luxembourg and Netherlands servers only)

VPN IN BOSNIA AND HERZEGOVINA

VPN in Africa and in the Middle East

VPN for Australia, New Zealand and Oceania

Unblock Australian TV & Network

Unblock New Zealand TV & Network

Privacy & censorship bypass

VPN IN THE FRENCH POLYNESIA