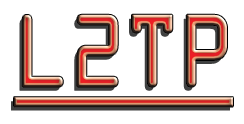 Layer 2 Tunneling Protocol (L2TP) is a tunneling protocol used to support virtual private networks (VPNs) or as a part of the delivery of services by ISPs. It does not provide any encryption or confidentiality by itself.
It relies on an encryption protocol (like IPSec) that it passes within the tunnel to provide privacy. (Source: Wikipedia)
Internet Protocol Security (IPSec) is a technology protocol suite for securing IP communications by authenticating and encrypting each of the IP packets of a communication session. IPSec also includes protocols for establishing mutual authentication between agents at the beginning of the session and negotiation of cryptographic keys to be used during the session.
What are the advantages and disadvantages of L2TP over IPSec protocol?
• Advantages :
L2TP/IPSec protocol is easy to set up and configure on your laptop, computer or mobile device. It is also one of the best VPN protocols for bypassing restrictions by networks and Internet service providers.
• Disadvantages:
It is possible to experience a slower speed with a L2TP VPN connection. L2TP/IPSec can also be easily blocked by some Internet providers.
To set up L2TP over IPSec protocol by Le VPN, please follow the installation instructions in our knowledge base.
Le VPN Protocols
OpenVPN
PPTP