Le VPN added new P2P and file-sharing servers in 3 more countries: Canada, Netherlands and Luxembourg.
Using Le VPN for file sharing and torrent download? Our dedicated VPN servers for file-sharing and P2P now cover not only Europe, but also North America!
You can safely and securely pass your torrent download, P2P and file-sharing activities through:
Le VPN server in Canada (new!)
Le VPN server in Netherlands (new!)
Le VPN server in Luxembourg (new!)
Le VPN server in Czech Republic.
If you are already a Le VPN client, you have probably noticed a separate File Sharing & P2P folder in your Le VPN software. It looks like this: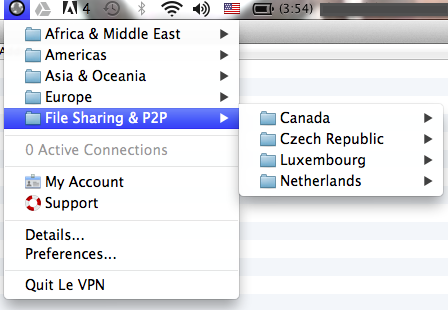 To ensure the best speed of your downloads, we advise that you connect to the nearest server to your location.
If you are not a Le VPN client yet, here's another reason to sign-up today at www.le-vpn.com and take advantage of an even better file-sharing and safe P2P experience with Le VPN!
You can learn more about using a VPN for file sharing, P2P and torrent download here. Want to know other cool perks and advantages of Le VPN offer? Check it all out at www.le-vpn.com!