Ho! Ho! Ho! Merry VR Xmas! Win Oculus Rift + Touch + 2 Sensors in the last Le VPN giveaway of 2018!
Le VPN is running the last giveaway of this year with an amazing free gift that will be sent to the lucky winner on the Christmas day, the ultimate VR pack of 2018: Oculus Rift + Touch + 2 Sensors (value $500)!
The competition is running for 10 days from December 14th to 24th, and the Winner will be announced on December 25th, because we love bringing good news, especially during the festive season!
In order to qualify to win, you need to fulfill only 1 obligatory criteria:
1. Test the latest version of Le VPN app on Android and iOS, and leave your review of Le VPN app in GooglePlay or AppStore.
Note: If you have already left us a review in the past in one of the stores, you automatically qualify! Just make sure you help us identify your review!
The winner will be drawn randomly, and all the other entries increase your chances to win! Each entry = 1 chance. For example, you can tell us what new features you'd like to see in Le VPN app, or share our giveaway on social networks and each action will grant you another chance to win! So the more other entries you submit, the more chances you have to win! All terms & conditions for this giveaway are here.
This is a simple lottery, anyone can win! Participate in Le VPN Giveaway in the widget below. READY – SET – GO!!!
Le VPN Xmas Giveaway: Oculus Rift + Touch + 2 Sensors

Latest upgrades in Le VPN Android & iOS apps. We need your feedback!
Yes, the last milestone of 2018 for our tech team is the release of the latest versions of our apps in Google Play and App Store. And as always, your opinion counts! Here's what's new in the iOS app:
The number of locations increased to 114 countries.
Added IPSec protocol support (to use if IKEv2 is not available in your network).
Added a selection button between IKEv2 and IPSec protocols.
Added offline mode to connect in restricted networks.
Added anti-blocking features to improve service availability in restricted networks.
Improved connection reliability.
Improved connection speed.
The Android app got a bit more changes since it has been enjoying 114 country locations for a while now, but we've also improved the connection reliability and speed, and added anti-blocking features to improve Le VPN service availability in restricted networks and countries that block VPN services.
Top 5 upgrades in Le VPN service in 2018:
Upgraded all plans to 5 simultaneous connections, so that you can use Le VPN app on all your devices at the same time!
Launched a new P2P/file-sharing server in Poland, adding it to the existing locations in Canada, Netherlands, Czech Republic, and Luxembourg.
Updated all our network infrastructure, which means faster speeds, more stability, and almost unlimited capacity!
Added an IPSec protocol to Le VPN iOS app and a selection button between IKEv2 and IPSec protocols.
Added anti-blocking features to improve service availability in restricted networks.
Don't have Le VPN subscription yet? Check out Le VPN Xmas Special!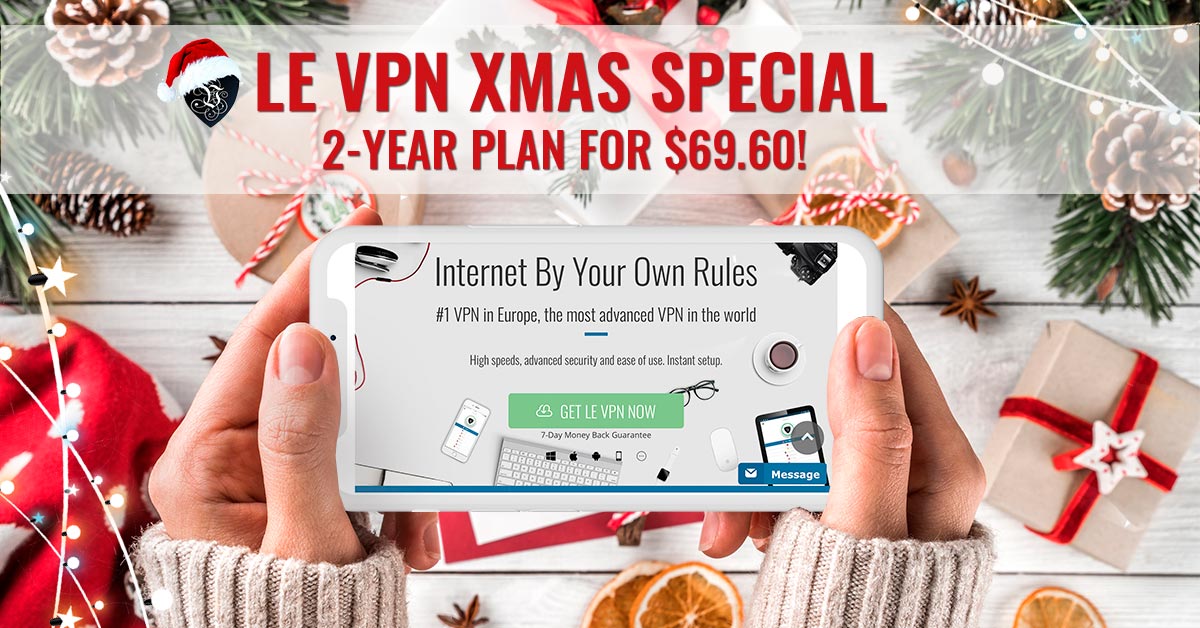 Why are we running Le VPN giveaway and offer free VPN accounts in regular competitions?
By popular request, we have decided to run Le VPN giveaway on a regular basis (usually once a month) so that more people have a chance to win a free VPN service and enjoy the best VPN protection for one year! And this is not just a year of some newbie free VPN service but one full year of a premium VPN by Le VPN, the #1 VPN service in Europe and the most advanced premium VPN in the world!
One year of unlimited access to our secure VPN tunnel connecting to VPN servers in 114 countries;
One year of free VPN package including not only Le VPN apps compatible on most operating systems, VPN and Smart DNS devices, and mobile devices; but also a HybridVPN connection to unblock websites for fast media streaming, including Netflix.
Le VPN client and apps for Windows, Mac, Android, iOS, plus simultaneous use on 5 devices at the same time!
We have decided to organize regular Le VPN Giveaways because we are proud of our work in the virtual private network space and we would like to share it with as many free users as possible, and offer our free services and other gifts to the winners. No need to look for the best free VPN services anymore! Just win a premium VPN by Le VPN – the more actions you take, the more chances you have to win!
As a bonus, each year on our Birthday on November 10th Le VPN giveaway transforms into a lottery for amazing gifts like PS4 in 2017 and Xbox One X + Fallout 76 in 2018.
Didn't win this month? You can still get a free VPN trial for 7 days by downloading "LeVPN" app in AppStore for free (and yes, it is really free with no payment details required), or by signing up today and using our 7-day MoneyBack guarantee in case you don't want to keep your subscription as a paid customer. Learn more how to use a VPN and buy your VPN subscription here.
How to win in Le VPN giveaway? How do we select the winners of our free VPN service for 1 year and other Le VPN giveaways?
We are using a Gleam platform that automatically selects the winner at the end of the competition. Simply click on the widget and complete as many entries as you can to have more chances to win. Different actions have a different number of points, where each point or entry is 1 additional chance to win!
For example, you get the most points/entries for answering our question in the comments of this article. We post different questions each month and they help us to better understand you (our customers) and your needs, and they give you the most chances to win a free VPN subscription!
We also make sure that all entries are really valid (and Gleam automates most of the tasks for us), so a fake entry cannot win the prize. Since our prize is real – the way you participate should also be real 🙂 Simple, right?
And yes, we reserve the right to change prizes at each Le VPN giveaway if we want. This month is our Xmas Giveaway the prize is a VR pack: Oculus Rift + Touch + 2 Sensors! Try your chance now!
Here's what the past winners of Le VPN giveaway are saying:
Xbox One X bien reçue ! Merci ! 🙂 pic.twitter.com/Wy93TKsNbj

— Bertrand Presles (@bpresles) November 25, 2018
I do not believe it. It is incredible!. Thank you very much! I have sent you my address! When I will recive it I will sent you a photo! Thanks a lot!!!!! 😀😀

— Cristian Espinosa (@espinosi) November 17, 2017
@LeVPN thanks a lot! I just received the PS4 Pro with Tekken! My doggy and me are very happy! pic.twitter.com/niBWPSMP36

— Cristian Espinosa (@espinosi) November 22, 2017
Genial! Muchas gracias!! Me va a ser de mucha utilidad esta subscripción! Un saludo cordial desde Andorra!

— DaniAND (@DaniAND__) 12 septembre 2018
Notre grand jeu est terminé, et nous avons un gagnant ! Bravo donc à @MayorgaGeovanny qui remporte un an d'abonnement gratuit à Le VPN !#le_vpn_france #LeVPNgiveaway pic.twitter.com/r6ThFfZHPc

— Le VPN France (@le_vpn_france) July 9, 2018
Question for comments (past Free VPN accounts giveaways): Please tell us in comments below why you are using a VPN or why you would like to win a free VPN plan from Le VPN.
Subscribe Today!
Get Le VPN from $4.95 per month with a 7-Day Money-Back Guarantee and
Enjoy the Internet by Your Own Rules!

NO LOGS

SERVERS IN 114 COUNTRIES

P2P ALLOWED

EASY TO USE APP

7-DAY MONEYBACK GUARANTEE

SMARTDNS & HYBRIDVPN

CONNECT 5 DEVICES AT ONCE

ULTRA HIGH SPEEDS