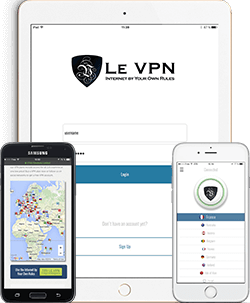 Today mobile devices like iPhone or iPad have become a must-have for most people.
Regardless of whether you use it professionally or for personal entertainment, their great functionality allows you to replace multiple devices at once, including computers, cameras, iPods and cell phones. We love them because they are so mobile.
You can check your bank statements, update your Facebook profile, read emails, watch videos or post comments on your blog, and all of that from anywhere in the world.
However, the use of multiple Internet access points makes you vulnerable against different cyber attacks that may aim to intercept your traffic, making use of iPads and iPhones risky.
For example, you can never be sure that the Wi -Fi that you're connected to is not compromised. It may collect user traffic to extract valuable information such as credit cards numbers, the passwords and all your personal information and notes without you ever being aware of it.
Furthermore, the Internet is full of utilities that allow anyone to intercept information passing through unprotected Wi-Fi networks. Those with sufficient computer knowledge can use these tools to interfere in your personal life or rob you.
That is why we have adapted our VPN solutions to your needs and created a mobile VPN software that will enhance your mobile security and protect you on the go.
Le VPN for mobile devices works similar to a standard VPN service. When you connect your phone VPN or iPad VPN to one of our servers in more than 100+ locations, whether its through OpenVPN, IKEv2 or L2TP protocol, all of your Internet traffic goes through a highly encrypted channel, making it impossible to intercept.
Le VPN mobile software is compatible with most mobile devices, including all iOS devices (VPN for iPhone, VPN for iPad, VPN for iPod Touch) and VPN for Android. Le VPN also offers an iOS VPN app that made it easy to use VPN on iPhone, iPad and iPod Touch, and allows to quickly setup a VPN on iPhone and other iOS devices.
Learn more about Le VPN for mobile devices:
SERVERS IN 100+ LOCATIONS