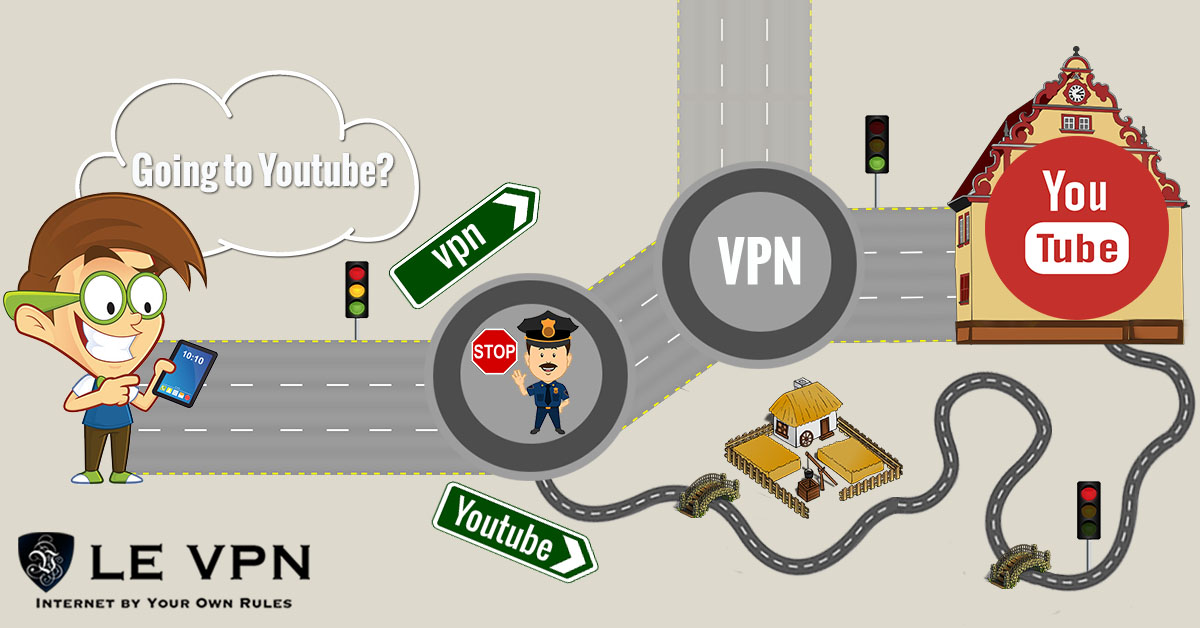 We live in an amazing world of technology and connection. It seems silly that some popular sites such as YouTube are unavailable in certain places.
That's where Le VPN comes in.
Our private, secure VPN connections open up the flow of information and access to sites that may be blocked or censored in your location.
Moving abroad for a short time? Live in a country where censorship trumps access? Le VPN can change your online experience.
Here's How to Unblock YouTube With a VPN:
1. Get your all-inclusive subscription from Le VPN.
If you're unsure about a commitment, you can take advantage of our seven-day, money-back guarantee. Our services are designed to work with Windows, Mac, Linux and other major operating systems, as well as devices like Androids, iPhones, iPads and others.
2. Log in and use the Internet via your new, private connection.
How does it work? Le VPN keeps 400 servers in 50 countries. A Le VPN subscription also gives you access to censored or blocked sites and media by sharing an IP address based in a country where access is unrestricted. Not only do you get the access you want, but you get it safely and privately.
3. Enjoy your unrestricted access to YouTube 24/7.
With an all-inclusive subscription from Le VPN, you have 24-7 access to private Internet availability that connects you to the sites and digital media you want to access. If you live where YouTube videos are blocked or censored, get rid of the restrictions by subscribing to Le VPN. It's that easy.
Subscribe today, and find out just how accessible YouTube can be.
The Benefits of VPN Connections
The benefits of a VPN connection extend well beyond access to YouTube and other sites. In countries where your data is regularly captured, a VPN connection can help you avoid monitoring. File sharing and other activity that has been known to expose private information is safe and secure when you use a VPN connection. If you're traveling abroad for the short- or long-term and still want access to television shows that are premiering in your home country, you can maintain an IP address from that home country — and continue having access to your programs.
You'll experience a safer, freer, more secure online world when you choose the power of a VPN connection.
The Le VPN Advantage
You'll find several options when shopping for a VPN provider. What makes Le VPN better than the rest?
We offer low prices. For just a few dollars a month, the safety and access of a Le VPN connection can be yours.
We offer simple subscriptions. You won't find confusing packages and unnecessary features at Le VPN. There's just one, simple, all-inclusive subscription that gives you access to everything you need.
Our connections are compatible. Our connections are proven to work with your devices and operating systems.
We offer worldwide coverage. The strategic location of our 400 servers in 50 countries guarantees you get the access you want.
Your satisfaction is guaranteed. If you don't like your Le VPN connection, you can take advantage of our seven-day, money-back guarantee.
Are you ready to transform your Internet experience? Subscribe to Le VPN today.